Elementary Supply List
Lipan Pre-Kindergarten Supply List
2 - 24 count boxes of Crayola crayons (no large, fluorescent or jumbo)
2 - 4 oz. Elmer's white school glue (regular, not gel)
1 box of Crayola washable markers
1 pair Fiskars children's scissors (other brands bend and tear the paper)
1 set Crayola watercolors
1 box of Kleenex
2 large containers of baby wipes
1 folder with pockets 2 large bags of M&M's or Skittles (we use them for math activities throughout the school year) A backpack
$5.00 for your child's subscription to Clifford News Please provide a change of clothes including underwear and socks in a large Ziplock bag with your child's name on it.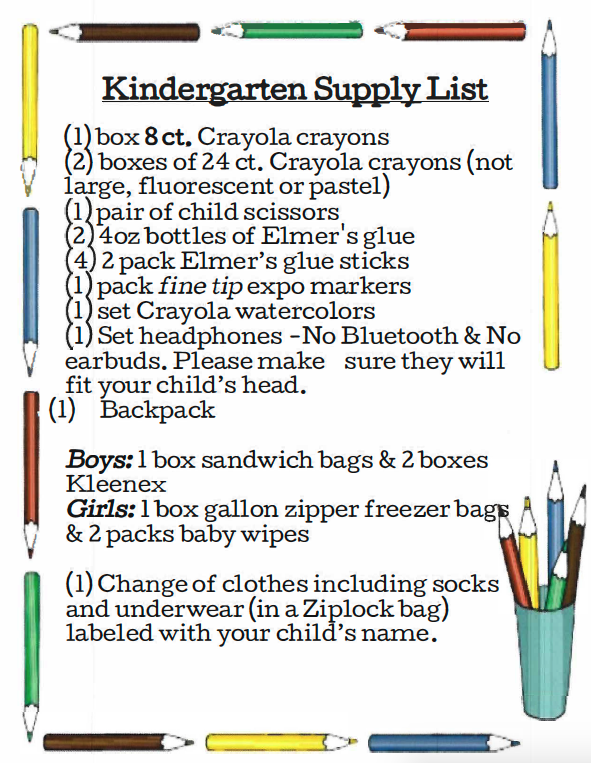 Lipan Elementary
2nd Grade Supply List 2020-2021
1 box 24 count crayons
2 packages of 24 count sharpened ticonderoga #2 pencils
3 boxes of tissues
8 large glue sticks
1 pair of Fiskars scissors
1 set of markers (water base)
8 BLACK EXPO CHISEL TIP dry erase markers
1 white board eraser OPTIONAL
2 big pink erasers
Small school box
Headphones (not earbuds) please label with name
BOYS: 1 roll of paper towels
GIRLS: 1 box of gallon size zipper baggies
Please send tennis shoes for P.E.
EXTRA: We would love for you to send CLOROX WIPES and HAND SANITIZER if you find any.
3rd Grade Supply List 2020-2021
1 box of crayons (24 count)
Sharp scissors
6 large glue sticks
1 package of pencil top erasers
2 one subject spirals
4 composition journals (wide rule)
3 packages of #2 pencils (Ticonderoga)
4 Thin EXPO Dry erase markers and eraser (old socks make good erasers)
Markers
1 bottle of glue
Map pencils
2 boxes of Kleenex
3 holed zipper supply pouch
3 Ring Binder (1 1 /2 inch)
Headphones
Lipan Elementary 4th Grade Supply List
Mrs. Smith and Ms. Posey 2020-2021
1 -1 ½ inch 3 ring binder
Headphones or earbuds
2 folders (any color, with brads)
1 box of crayons
1 box of map penci Is
1 bottle of glue
1 pair of scissors
1 set of markers (optional)
4 packages of #2 penci Is (preferable Ticonderoga brand)
1 hand-held penci I sharpener
2 big pink erasers
5 composition notebooks (wide ruled)
5th Grade Supply List
1 pair of scissors
1 package of pencils
1 package of pencil top erasers 1 pencil bag
1 bottle of Elmer's Glue All
1 box of Crayola markers
1 24 pack of crayons
1 box of map penci Is
1 package of highlighters
2 spirals
3 composition notebooks
1 package of notebook paper
1 Six Pocket Expanding File Folder (See pictures) 1 pair of inexpensive earbuds for the computer lab 1 clear storage box with lid (See bottom picture)
6 pocket expanding file folder Can be found at Walmart or Amazon
*If it is possible, we would appreciate to have hand sanitizer and Lysol/Clorox wipes*
6th Grade Supply List
2 Packages of Notebook Paper
3 Packages of Pencils
1 Package of Blue/Black Writing Pens
1 Pencil Bag
3 Glue Sticks
1 Package of Markers
1 Box of Crayons
1 Box of Map Pencils
2 Composition Notebooks
2 Inch Three Ring Binder with front inside pocket 1 Package of Chiseled Dry Erase Markers
1 Box Ziplock Bags (boys bring quart size) (girls bring gallon size)
1 Bottle of Germ-ex